Home

>

Excavator-Amphibious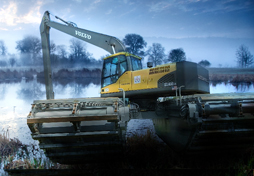 Excavator-Amphibious
Also referred to as "marsh buggies," these machines are used for a wide range of applications:
1. Maintenance and cleaning of waterways, lakes, shorelines and ponds
2. Erosion control and prevention
3. Deepening of waterways and river deltas
4. Maintenance and repair of natural environment
5. Flood protection and flood maintenance works
6. Landscape building and protection
7. Accessing difficult strands of water/soft terrain
8. Swamp and wetland construction
9. Road building through wetlands
Talk to our committed, knowledgeable staff today and we'll help you find the right amphibious excavator for your next big job.