Scott Receives Tadano's 1000th GR-1000XL
Scott Equipment Takes Delivery of 1000th GR-1000XL
Scott Equipment of Monroe, LA recently took delivery of a special Tadano GR-1000XL rough terrain crane in Houston, TX. This crane was the 1000th unit of this popular Tadano crane model produced at the Shido manufacturing plant in Japan. Despite early production delays due to the March, 2011 Japan earthquake this milestone was reached in just under four years. Tadashi Suzuki, Executive Vice President, Tadano Ltd. made remarks to attendees that included Scott Equipment's President, Scott Cummins and Executive Vice President, Curley Bordelon.
"Scott Equipment is a major player in the sales and rental of rough terrain cranes in the Gulf Coast market and an impact partner for Tadano," stated Yo Kakinuma, President and COO of Tadano America. "Taking delivery of this crane underscores our long-standing working relationship and commitment to Scott Equipment," said Kakinuma.
"We are very honored to accept the 1000th GR1000XL crane", remarked Scott Equipment President Scott Cummins. "Tadano cranes have brought and continue to bring significant value to our company and our customers," said Scott. This crane will be transported to Baytown, TX, where it will be put to work very quickly.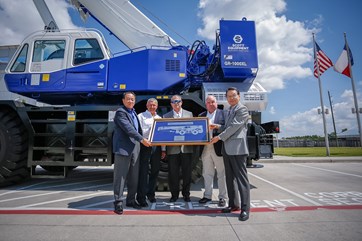 About Tadano America Corporation
Established in 1993 in Houston, Texas, TADANO America Corporation is the strategic base for sales of rough terrain cranes, all terrain cranes and boom trucks for the North American market. Tadano America has dedicated customer service office locations located in Houston, Texas and Edmonton, Alberta providing direct-to-customer product support. Tadano's corporate office, located in Houston has 46,000 square feet of warehouse space for parts and storage. Tadano's field service staff works in key areas throughout North America continuing Tadano's core values of safety, quality and efficiency. Tadano's products are available through a broad network of dealers, agents and partnerships. Tadano America Corporation is a subsidiary of TADANO, LTD.
About Scott Equipment
Scott Equipment Company, LLC was founded in 1939 by Thomas H. Scott under the name of Scott Truck and Tractor. In 2001, Scott Cummins assumed the position as President after his grandfather's death. In 2007, Scott formed a partnership with G.W. Van Keppel that resulted in Scott Van Keppel. In 2014, Scott had grown into 26 locations plus 3 Scott Van Keppel branches. In June of 2014, Scott sold the agriculture division to refocus on cranes, construction, and material handling equipment. Scott Equipment Company, LLC now has 24 locations providing sales, rentals, parts, and service. Scott Equipment works with several manufacturers in order to provide the customer with quality equipment supported with a vast parts inventory and certified service technicians.
Valerie Satula
valerie.satula@tadano.com
Phone: 281.869.0641