New Scott Equipment Material Handling Offers Centralized Location, Superior Service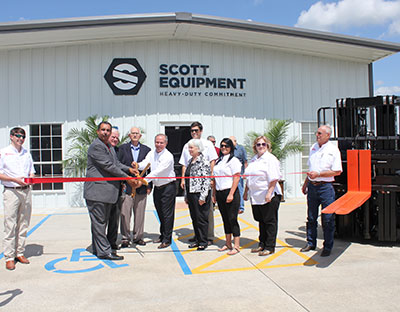 SCOTT, LA (May 30, 2014) - Scott Equipment's brand new Material Handling location near Lafayette offers convenience and a renewed focus on customer service. To celebrate the location's grand opening on Thursday, May 22, about 200 customers and civic leaders gathered to tour the facility and connect with Scott employees and executive management.
Branch Manager M.J. Sampognaro, a native of Monroe, Louisiana, was the first participant of the Scott Management Trainee Program when he started with the company in April 2013. Prior to joining Scott Equipment, he graduated from the University of Alabama with degrees in finance and economics, specializing in financial management, and started his career working on presidential campaigns out of Las Vegas. After the campaigns ended, Sampognaro moved home and started with Scott, first working in Finance in the Monroe corporate office. He soon made the rounds, learning the company's ins and outs in the Richwood and New Orleans stores, before stepping into the manager position at this new location.
Location and Specialization
Taking into consideration the current oil and gas windfall in South Louisiana, the move to combine the Lafayette and Lake Charles Material Handling stores was a strategic one. "We're on a corridor that enables us to easily reach our clients," said Sampognaro. "This new store is pretty much smack-dab in the middle of Southwest Louisiana and located just off I-10, so we have the capability to send out techs where they need to go from a centralized location in our territory." In addition to the location, the new Material Handling store touts its specialization. "Separating the Material Handling division from the Construction division allows each side to focus, maximize efficiency and give customers the attention they need."
Sampognaro's team works mainly with construction and energy customers and specializes primarily in Toyota, Hoist, Maximal and Hyundai forklifts, though the service techs can operate on any make or model forklift. Seven of the location's 16 employees are highly trained service technicians, having completed extensive training and certification processes.
Superior Service
Prior to joining Scott, Senior Vice President/Division Manager Lance Landeche served in the U.S. Marine Corps for 25 years, flying attack helicopters across the world and acting as a lead planner for key U.S. operations before retiring as an officer, earning his MBA and working as a management consultant.
A native of Abbeville, Louisiana, Scott gave him the opportunity to come home and bring a career of expertise to a company concentrated on quality and service. "My focus is bringing our entire division and Scott Equipment to be the company of choice for our region," said Landeche. "Our goal is to increase the quality and responsiveness of our parts and services."
This combination of customer service and attention to detail sets Scott Equipment apart. "Scott is all about our customers," said Sampognaro, "Our focus is providing them with the products and support they need to be successful in their business. We truly give our customers the tools they need to succeed."
For more information on the Scott Material Handling division or any of the Scott Equipment products or services, call toll free 1-855-493-9339 or visit www.ScottCompanies.com.