Scott Equipment helps "Demo Diva" stand out from the pack
From New Orleans to Amsterdam, Simone "Demo Diva" Bruni has colored the world of demolition pink. If it hadn't been for an encounter with Rodney Guggenheim of Scott Equipment, it might have never happened.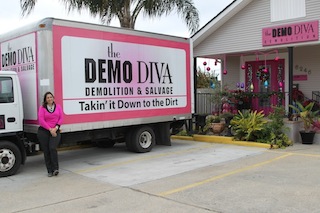 Before Hurricane Katrina, Bruni was a corporate event planner, handling some of the largest parties New Orleans had ever seen. After the storm, Bruni found herself laid off. Instead of focusing on her job search and what was next for her, she dug her heels in the dirt and helped organize cleanup and demolition efforts in her neighborhood. She was a natural at it. "I realized that demolition was the first step in getting everyone home," said Bruni. "I found myself becoming a catalyst to try and get my city back to normal as soon as possible."
The work she was doing after Katrina gave Bruni hope. She had found her passion in demolition. It was at this point she realized she would have to purchase equipment to turn her passion into reality. "I was highly intimidated launching this new venture. I didn't want to be a mechanic. I came from a very frilly industry, from crystal and parties, and now I'm working with heavy equipment. I was torn. I started to ask around, who has the best mechanic shop? Hands down, the word on the street was Scott Equipment on Airline Highway."
The day she drove to Scott Equipment, she was so excited about her future that she stopped and got a brownie and an iced coffee. "I was so rattled; this was a whole new ballgame, so I had to get some comfort food."
Rodney Guggenheim, a territory manager for Scott Equipment, met her at the company's St. Rose location. Bruni recalls that meeting: "He was so nice and so personable. He wasn't a salesperson to me – he was my friend. He didn't upsell me and he made sure I got the equipment I needed, nothing more. Within an hour, I had bought a Volvo 210 excavator. We were wrapping up the deal and then I asked him if they could paint it pink. He initially recommended against it, but you know what – he made it happen."
Why pink? "I knew I needed to stand out. Looking back, it was the best decision I ever made. When Scott's paint shop got done with it, it made me completely stand out from the pack," said Bruni. "I'm sure a lot of people thought I was crazy at the time, but Rodney and Scott Equipment were with me every step of the way and continue to be to this day."
Since launching in 2006, Demo Diva has continued to expand greatly, taking down huge warehouses and even entire city blocks. From land clearing, site preparation and demolition, Demo Diva has tackled it all. What is in the company's future? "Just wait and see. It will be very exciting, and I know Scott Equipment will be there for any equipment or advice I may need."
The exposure for Bruni and Demo Diva has taken her worldwide, including the World Demolition Summit in Amsterdam. "The gratitude I have for Scott Equipment and Rodney, it is a connection that has helped me grow; he has held my hand, he has been my friend. They took me from my backyard to the world stage," said Bruni.
How do you get the type of service that Rodney and others at Scott Equipment provide? Call Rodney at 855-641-1878 to find out more. For more information on Demo Diva Demolition, visit www.demodiva.com.